Our Story
SET OUT FOR NEW ASPIRATIONS
At Waymark Wealth Management, helping our clients pursue a state of true wealth is our biggest investment. By showing our clients a better mindset financially, they can then focus on the real goal: living a better life.
We believe traditional analysis only gets you so far. That's why we use innovative behavioral practices to get a better understanding of your entire financial picture. It's about everything that affects your wealth, not just your monetary decisions, but your challenges and concerns, hopes and dreams, values and ambitions. By taking time to go beyond the numbers, we create a plan that is designed to work towards your vision for the long term.
A waymark points travelers in the right direction along their journey. We look forward to guiding the way to the life you want.
OUR TEAM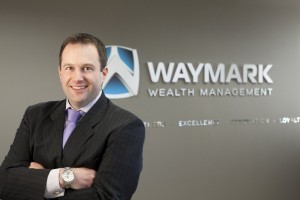 Sean Fair, CRPC®, AAMS®
Managing Partner | Co-founder
Sean Fair has a broad base of experience in private wealth management.  He is a member of the US SIF organization and is an advocate for the Environmental, Social and Governance impacts on the world markets.  His areas of focus are SRI (Sustainable, Responsible and Impact Investing), charitable giving, behavioral finance, wealth preservation, estate planning, and small business consulting.
Prior to co-founding Waymark Wealth Management, Sean founded The Fair Group out of Austin, TX based on the understanding that where and how you invest has a profound impact on not only the individual but on the world and society as a whole.
Sean graduated from Hamilton College with concentrations in Economics, Foreign Relations and Philosophy.  In addition to his current work at Waymark Wealth Management, Sean is an avid outdoorsman and philanthropist.  Sean currently sits on the Conservation Commission for the town of Wayland and is involved with the Sudbury Valley Trustees, a local conservation land trust.  Sean enjoys fly fishing, hiking, kayaking and camping.  When he is not in the woods he enjoys playing sports and gardening.  Sean lives in Wayland, MA with his family.
Sean's Favorite Quote is:
"If we could change ourselves, the tendencies in the world would also change. As a man changes his own nature, so does the attitude of the world change towards him. … We need not wait to see what others do."- Ghandi
Brendan Sheehan, MSFP, CFP®
Partner | Co-founder
Brendan Sheehan is a Client Services Associate™ professional with extensive experience in comprehensive wealth management. His focus includes retirement planning, behavioral finance, investment portfolio construction, education funding, insurance, taxes, charitable giving, and estate planning. Brendan has an ability to take complex visions and distill them down to simple action plans, with a goal of helping or while striving to help clients move from where they are today to where they want to be tomorrow.
Brendan graduated cum laude from Harvard University with a B.A. in Psychology. He received a Master of Science in Financial Planning degree with High Distinction from Bentley University's McCallum School of Business.
Brendan's Favorite Quote is:
"In the space between stimulus (what happens) and how we respond, lies our freedom to choose. Ultimately, this power to choose is what defines us as human beings. We may have limited choices but we can always choose. We can choose our thoughts, emotions, moods, our words, our actions; we can choose our values and live by principles. It is the choice of acting or being acted upon." -Stephen Covey
Michael Scott
Co-founder
As co-founder of Waymark Wealth Management, Michael Scott had nearly fifteen years of experience working with clients to bring goals and dreams within reach.  He was on the Board of Directors of the National Alliance for Mental Illness (NAMI). He was also the speaker at the 2010 Financial Planning Association National Conference on Behavioral Finance, and is currently writing a book on the subject.  Michael is an avid Mixed Martial Artist and performance car enthusiast.  As a family man, he enjoys reading, staying in shape, and spending time with his wife and three kids.
Mike's Favorite Quote is:
"The best way to predict the future is to invent it" – Alan Kay

Tania Boardman, MBA
Director of Operations
Tania has extensive customer service and management experience. She previously worked for a Fortune 500 company which was a leading global provider of insurance and employee benefit programs. Tania's background has been developing and implementing new processes, procedures and initiatives. Her passion is focusing on world class service.
Tania holds a Masters in Business Management from Simmons College in Boston and a Bachelors in Business Administration with a Finance and Marketing concentration from the University of Miami. She recently moved back from Tampa, Florida and lives in the local area with her husband and two children.

Brandon Cardarelli
Paraplanner
Brandon is a registered paraplanner. He handles the account set up, transfers, and client requests, trades, money movement, and advice implementation. Brandon first started in 2007 at Ameriprise when he joined Michael Scott's practice.
Brandon graduated from Bryant University in 2007 with B.S. in Accounting. 
Brandon lives in Plymouth with his wife Jessie and his dog Enzo where they enjoy spending time on his boat or at the beach. Brandon also enjoys making his annual pilgrimage to Walt Disney World.